---
To the place where "good design" was created
Good design, excellent design, design that opens up the future, ideas that move people's hearts, and actions that lead society always have small beginnings.
Interviews with designers at the birthplaces of good design to find hints for the next design.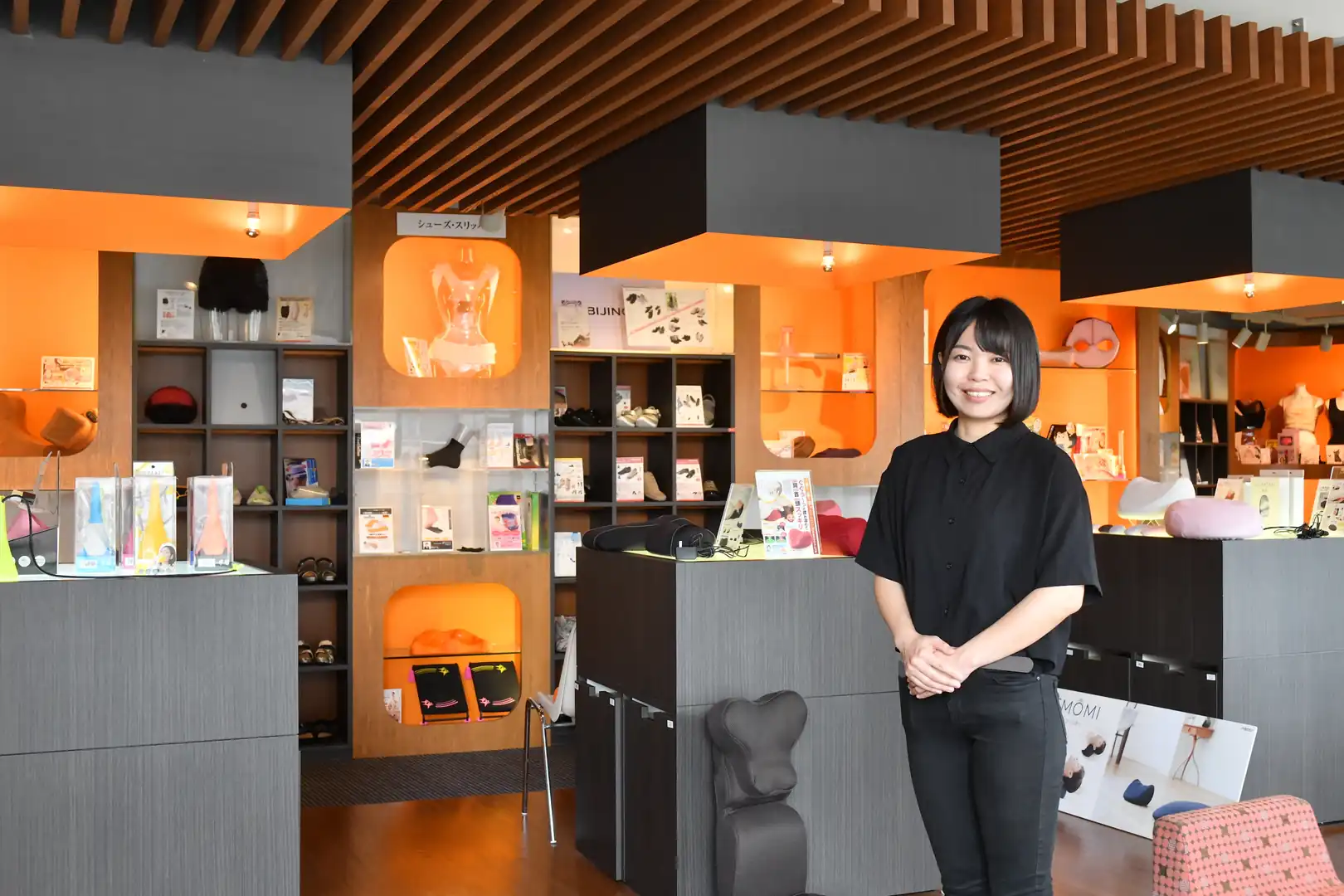 Giving shape to "what you love" (Part 2)
2023.11.09
This time, we visited Dream, Inc., which is headquartered in Nagoya City, Aichi. Their product "SONAENO cushion type multifunctional sleeping bag" was selected for the GOOD DESIGN BEST 100 in 2021. The grab-and-go cushion-type sleeping bag was a big hit for its unparalleled viewpoint. The developer of this product, Momo Ishikawa, has always been extremely fond of emergency supplies. How did she channel her passion to engage in her favorite field into a successful process? (Part 1)
---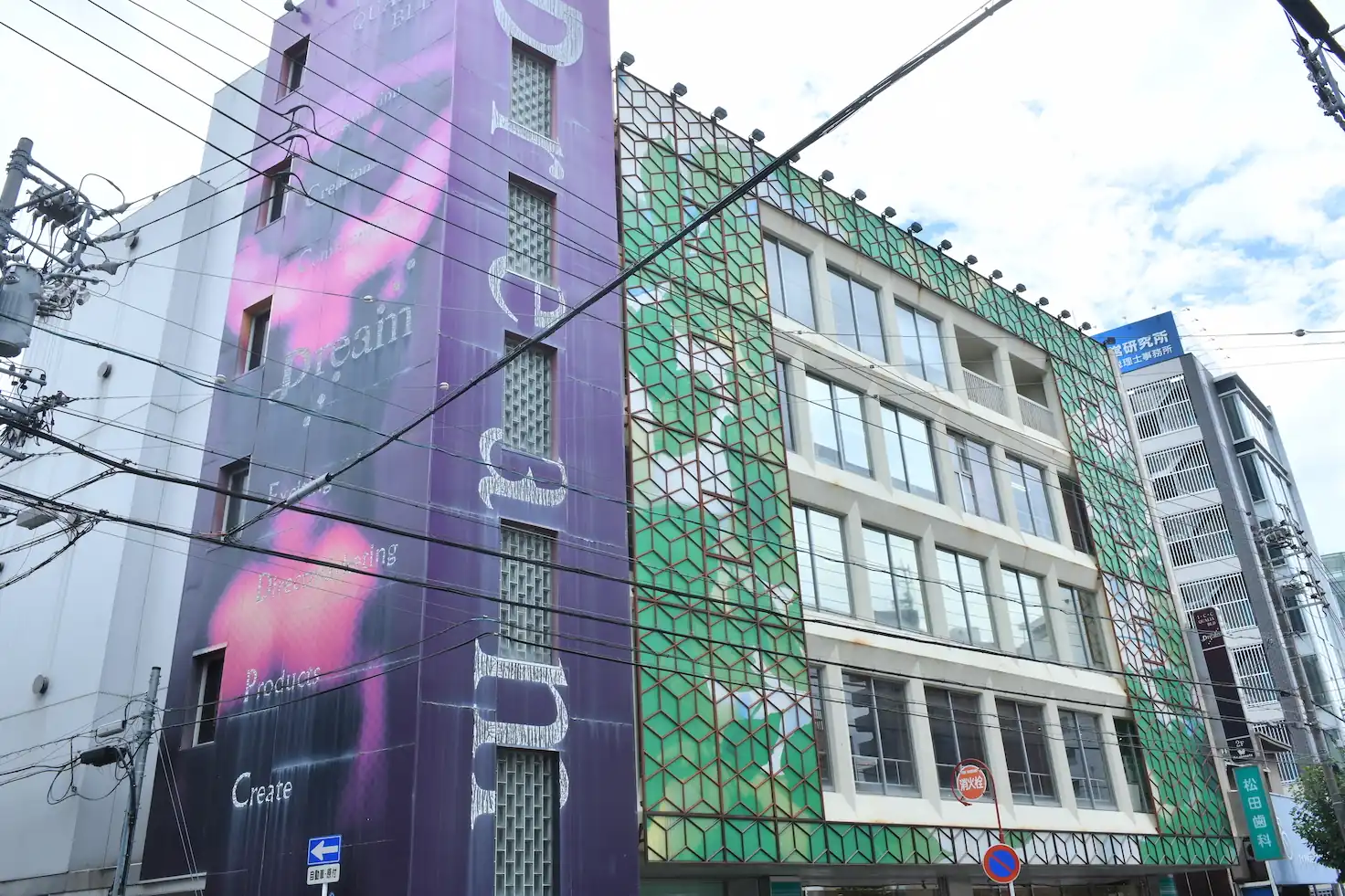 Aware but not prepared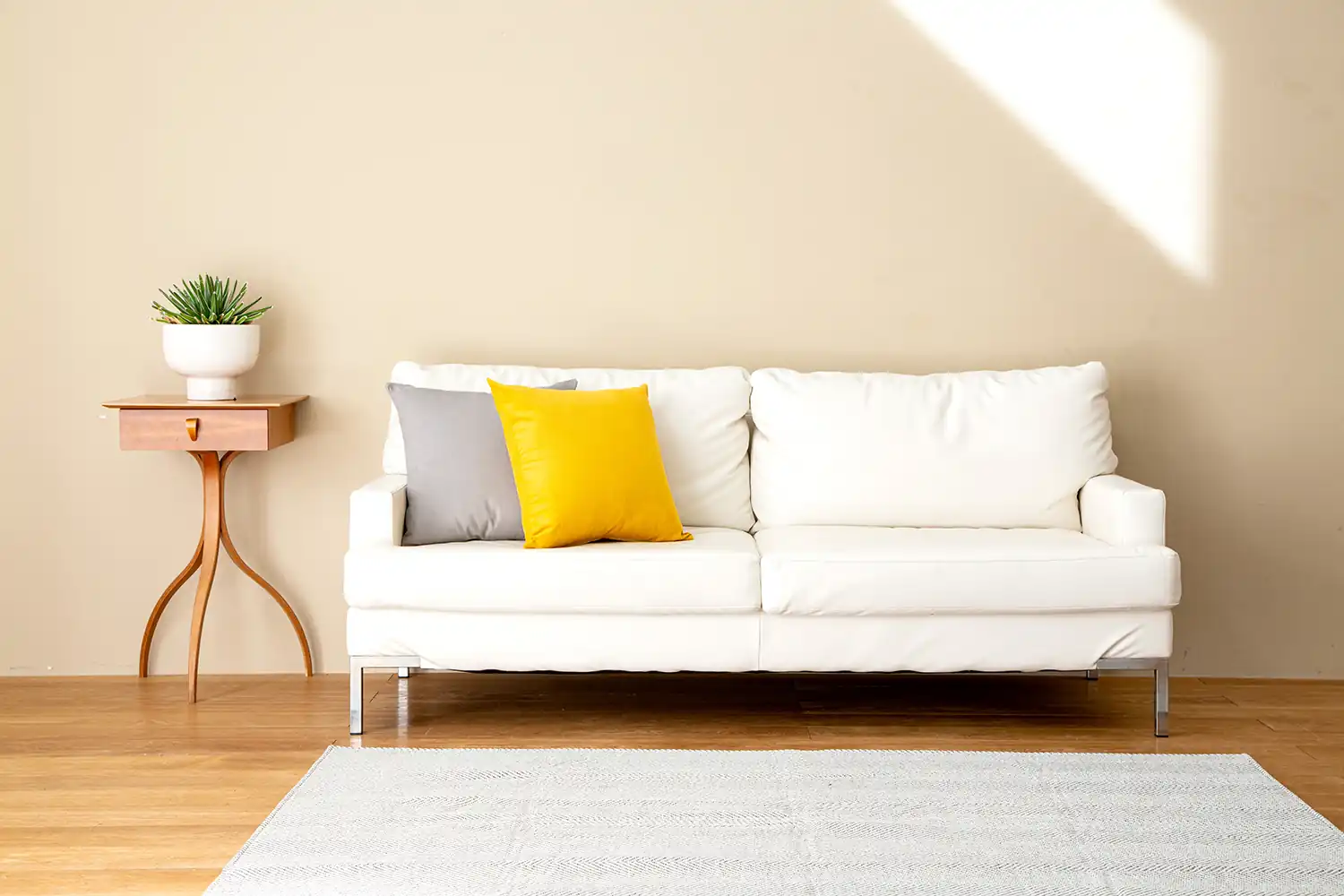 — The Great East Japan Earthquake was an unprecedented disaster. According to a survey in 2020, 70% of people answered that the earthquake had aroused their attention to disasters; however, 40% of households said they were not sufficiently prepared. Understanding what they need doesn't necessarily make them take action.
Momo Ishikawa Disasters definitely put people in extraordinary situations. You wouldn't be able to imagine something so out of the ordinary out of little interest in the subject. In that sense, it is understandable that they were apathetic about disaster prevention.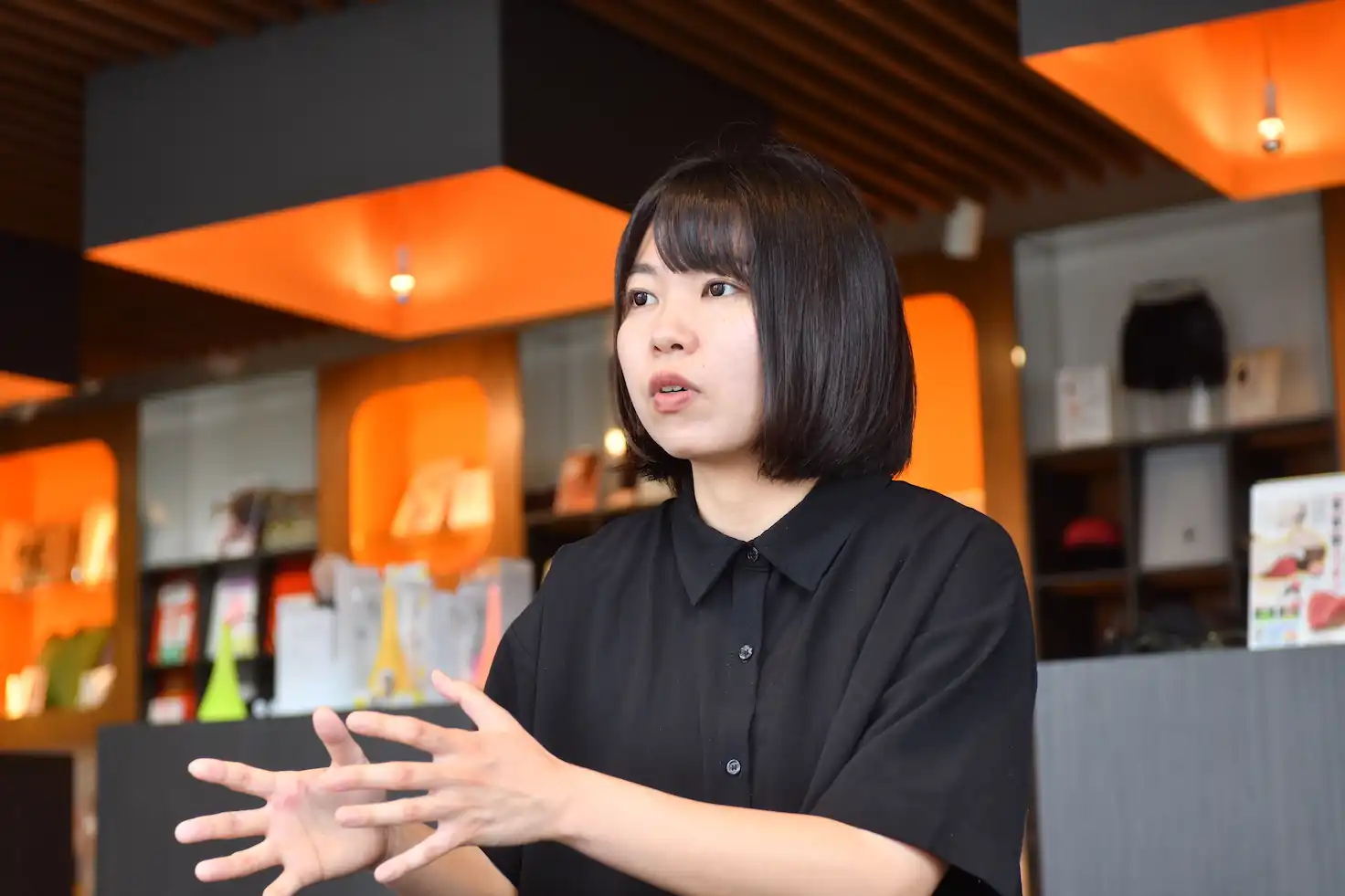 Ishikawa I was in Aichi when the earthquake struck, and there was almost no damage. A few years later, I became a university student and went to Sendai to serve as a volunteer. I helped remove debris buried in farmland and restore the land as rice fields. Seeing someone's daily items and keepsakes among the debris made me experience the ferocity of the tsunami while I was picking items up and thinking, "All these things were washed away by the tsunami."
Visiting the local disaster management center is an important part of my job along with market research. I can clearly imagine the reality of the impact of disasters while reading victims' stories. Through such experience, I have come to strongly feel that anything could happen at any moment.
New trends in phase-free
— In fact, large natural disasters happen almost every year. They are never someone else's problem. Therefore, lately, the idea of phase-free has become more common, expanding functions of daily items and services to suit both daily and emergency use instead of separating these two situations.
"SONAENO cushion type multifunctional sleeping bag" is a phase-free product that adopts a reverse approach from ordinary phase-free items, based on the concept of using an emergency item in daily life.
Ishikawa I have always loved and collected emergency supplies since childhood, yet even I kept these items packed away. But I use this sleeping bag daily. It is really handy when having a nap on the couch or suddenly feeling cold when seasons change. I can quickly spread it and lie down on it, or use it as a blanket like throwing a sweater over my shoulders.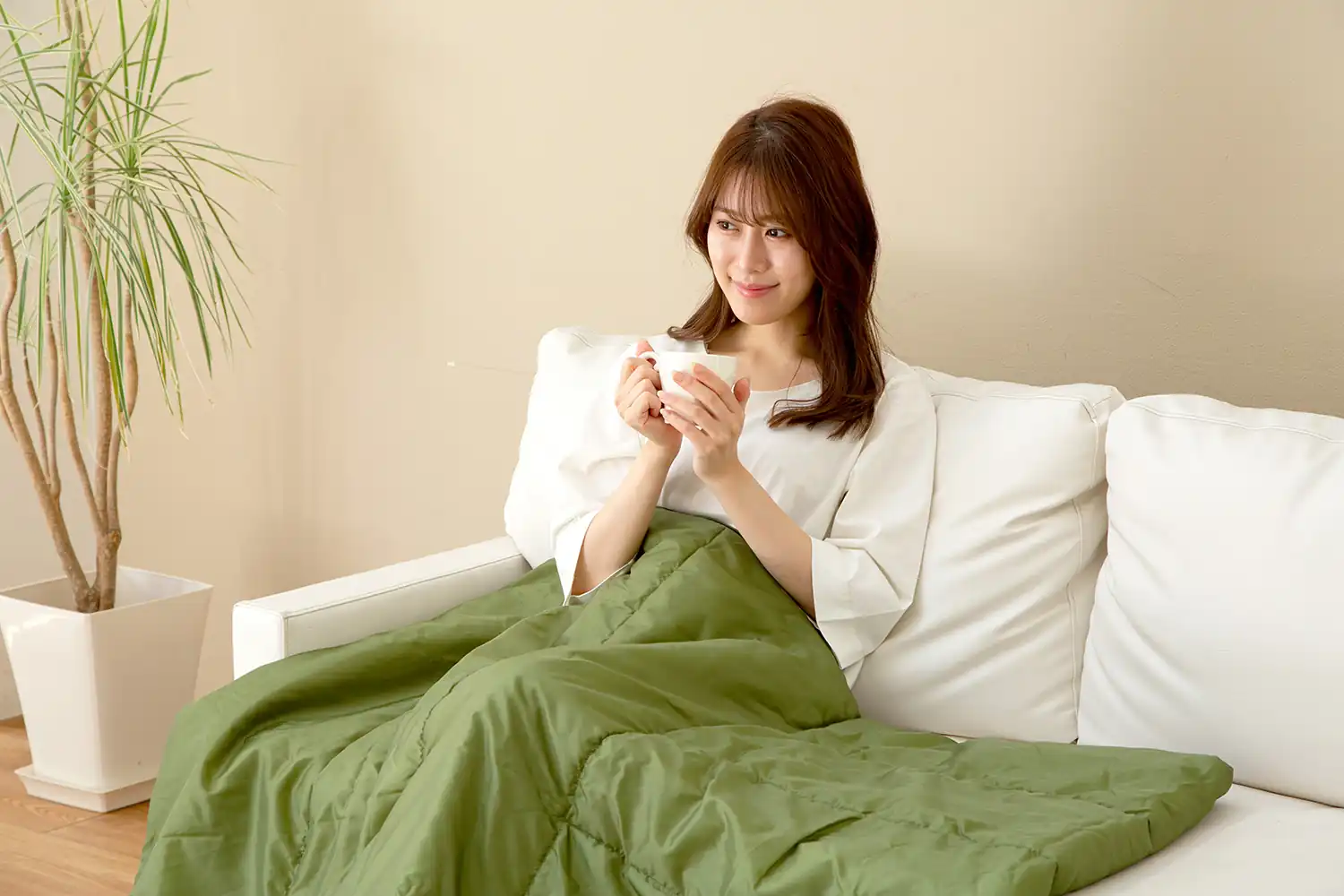 Ishikawa Our staff also liked and purchased this item. They take their own sleeping bags when they stay overnight at someone's place. Many of them keep it in their cars for sleeping overnight or use it as a spare blanket for guests at home.
We chose machine-washable polyester for the material, considering the difficult conditions at evacuation centers without a shower or bath. The choice of material also helped to expand the usage scenarios of this item as polyester is easy to maintain.
Finding a clue in past failures
— A useful everyday item was made as a result of pursuing usability in emergencies. Your ingenuity is reflected in one of the characteristics of this product, its exquisite sizing. It is impressive that a large sleeping bag, big enough for a 180-centimeter-tall man to use, can be folded into a standard cushion size of 45 cm x 45 cm.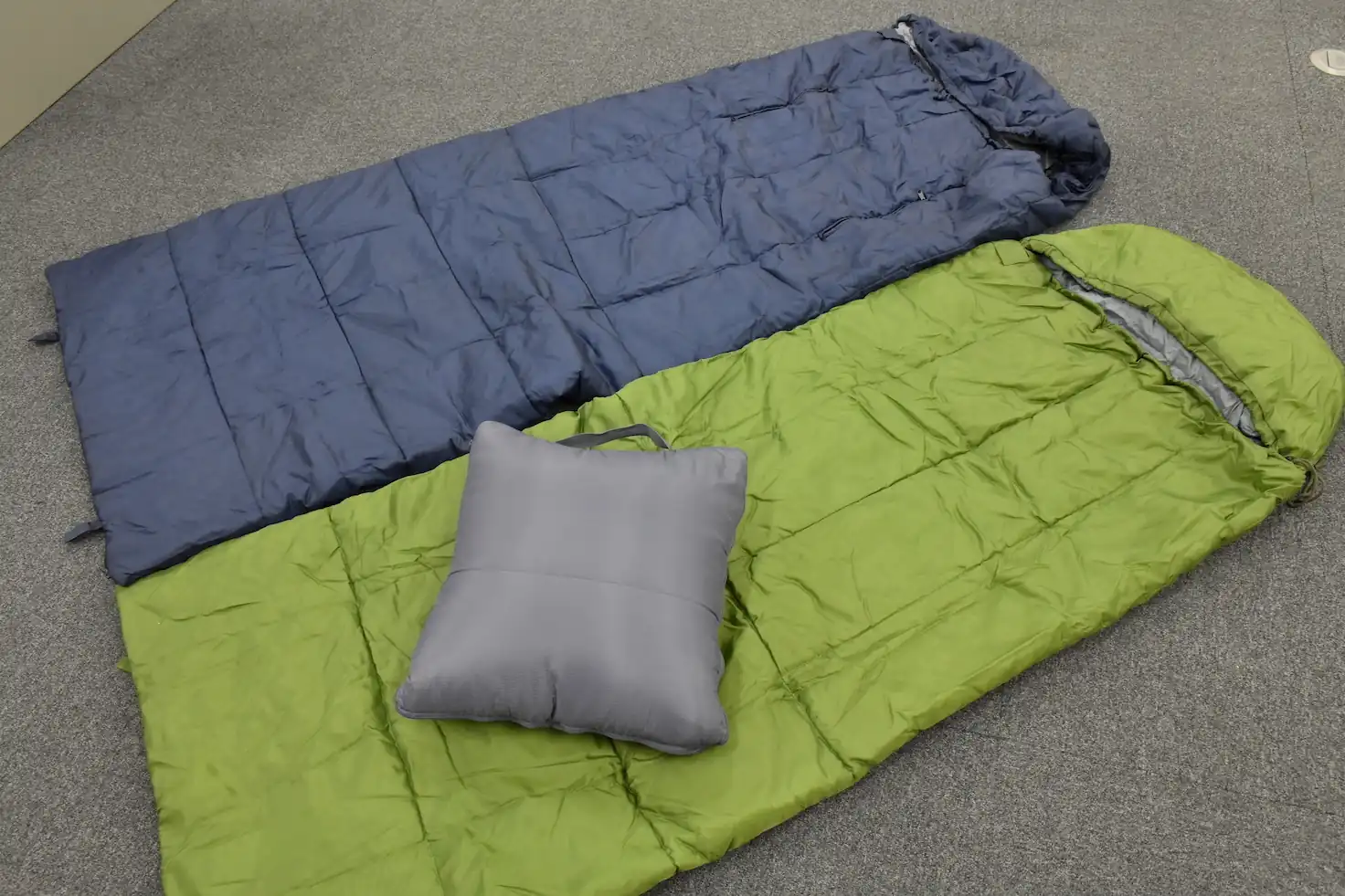 Ishikawa Sleeping bags plump up immediately after being spread. Past prototypes were really difficult to fold back to the original shape. Even after we managed to fold it into a cushion, loose fabric got caught in the zipper. It took about five minutes to zip it up little by little using the foot to push the fabric in.
Such an item can't be said to be cushion-type. This was the first challenge we had to face while developing this product. But we found a solution in no time by attaching three buttons. Then, the zipper can open and close smoothly without jamming, and the sleeping bag can be quickly tucked away into cushion form.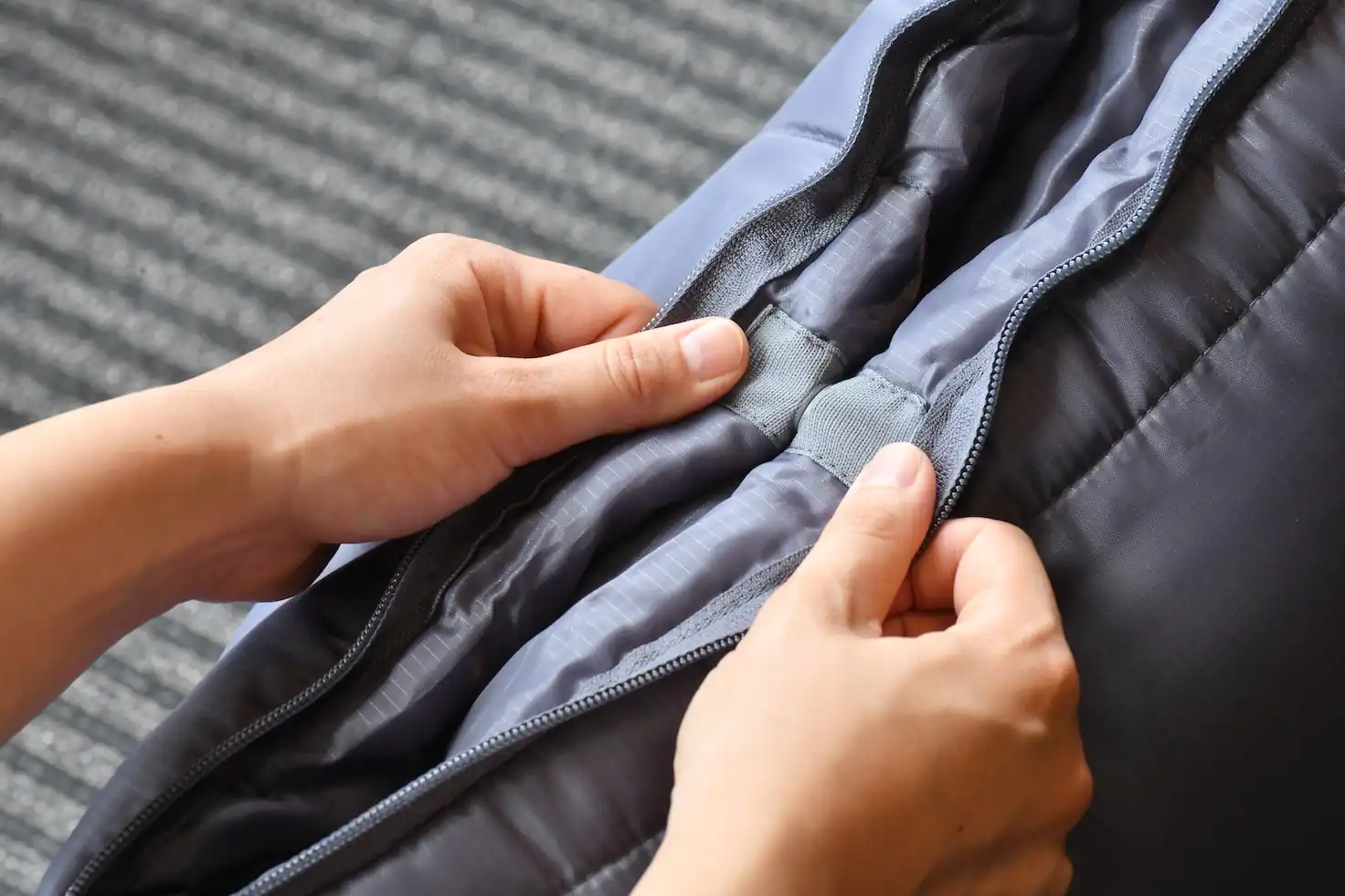 — These buttons are to assist the zipper. This is a great idea.
Ishikawa Actually, this idea was born out of a completely different project in the past. I have presented many plans for products other than emergency supplies in the past. Swimwear is one example. I presented a zip-front swimsuit that is easy for plus-size women to put on. But it couldn't be zipped up smoothly as the zipper got stuck around the abdominal part.
I realized that this issue could be solved by attaching supporting buttons to tuck the abdominal part in. This made the zipper go up in one go. I also adjusted the size and position of the buttons to complete the swimsuit.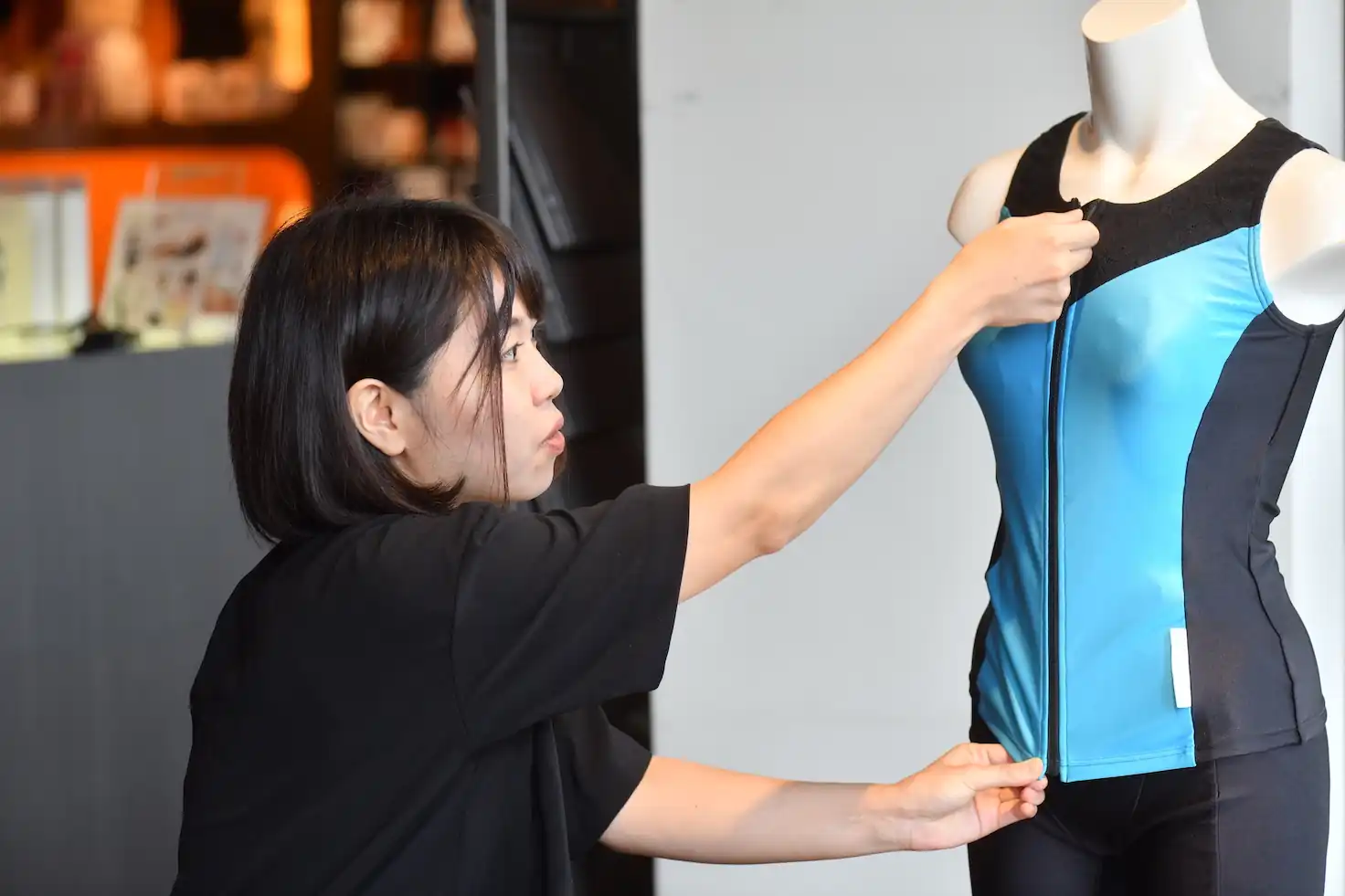 Ishikawa Unfortunately, the swimsuit couldn't become a hit, as it was released during the pandemic. Although the project was unsuccessful, I was able to connect my experience to the next project without wasting it.
I also made many various other adjustments to the sleeping bag, including making the size smaller to keep it from bulging out, deciding the size of pillow, and keeping costs down. I faced so many challenges but overcame them one by one.
Cushion cover to tote bag?
— This sleeping bag is sold under the SONAENO brand. Are you planning to develop more products under this brand?
Ishikawa I decided on this brand name with Mr. Tomoya Takani, a disaster prevention advisor, based on the concept "everyday convenience and emergency preparedness." On the other hand, the product name "cushion type multifunctional sleeping bag" had to be very straightforward to clearly describe what it is.
I would like to increase the number of products to about 10 in the future. As a first step, we made an original sleeping bag cover this summer. Based on my research, cushion covers with pockets are not commonly available on the market.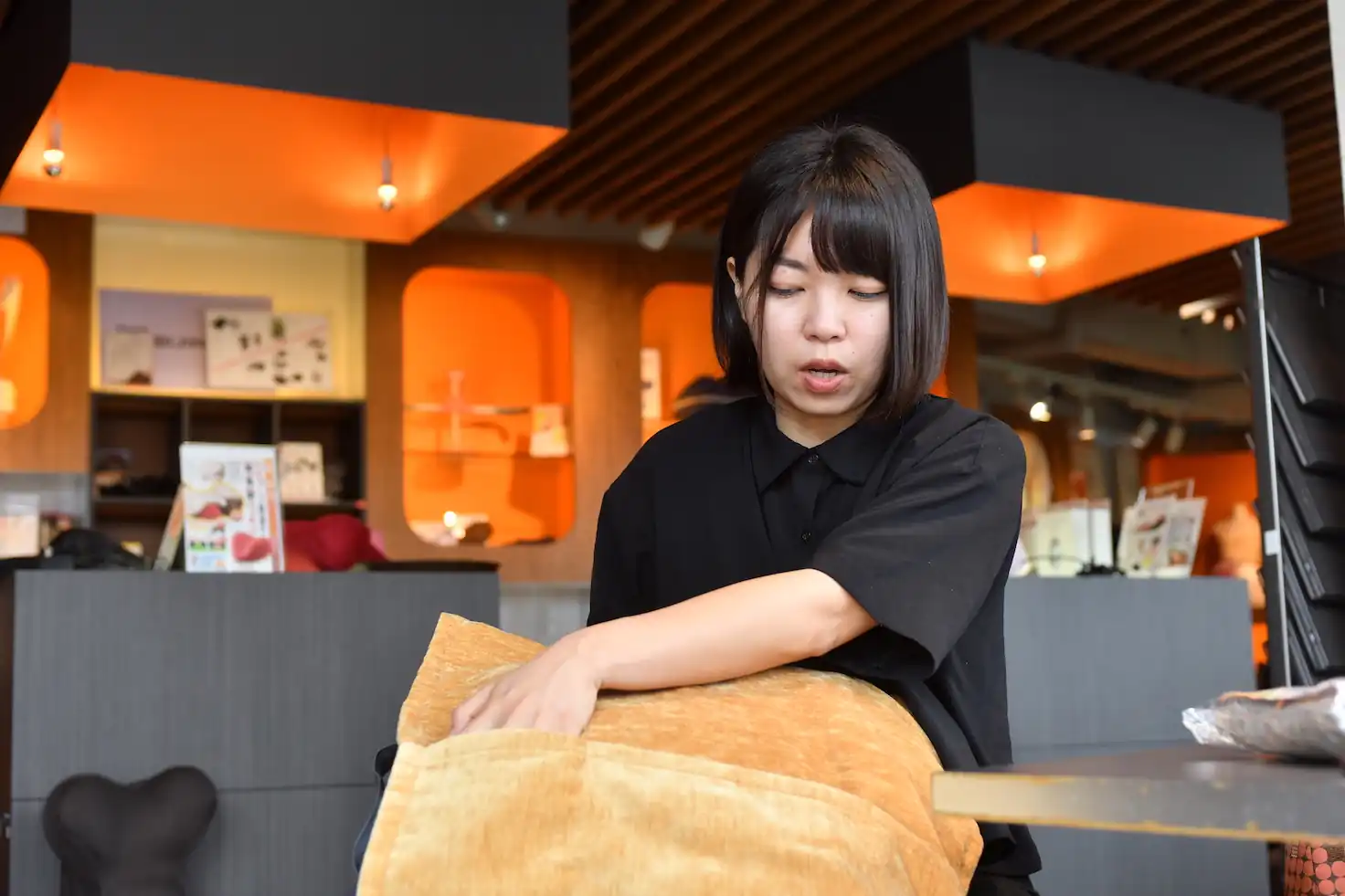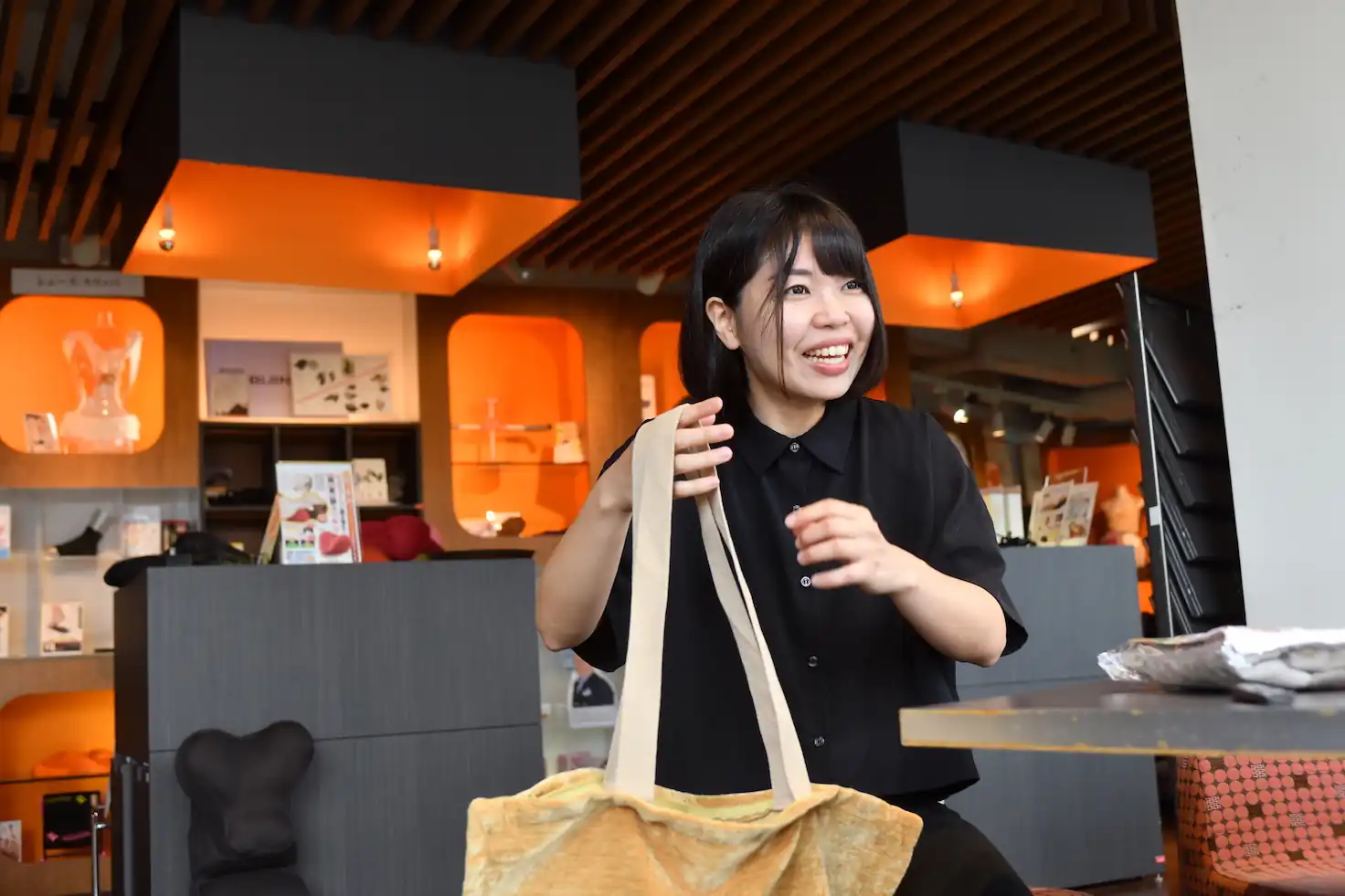 Ishikawa I made a cushion cover with four pockets that store daily items like a remote control and smartphone on the outside and emergency supplies, medicine, and keys on the inside.
Moreover, in emergencies, it can turn into a large tote bag that can hold six 2-liter plastic bottles. This bag lets you grab everything you need from the lounge all at once.
The habit of thinking keeps ideas flowing
— This is handy! I can see that you are full of good ideas. How do you come up with your ideas?
Ishikawa I have always been interested in convenient goods and liked solving niche problems even before I got a job. In addition, I am able to develop emergency goods now, which is my passion. So, I am always looking around with interest. I take photos of things that catch my eye or resonate with me whenever I go out for work or leisure.
— Do you mean you always take photos of things that make you wonder?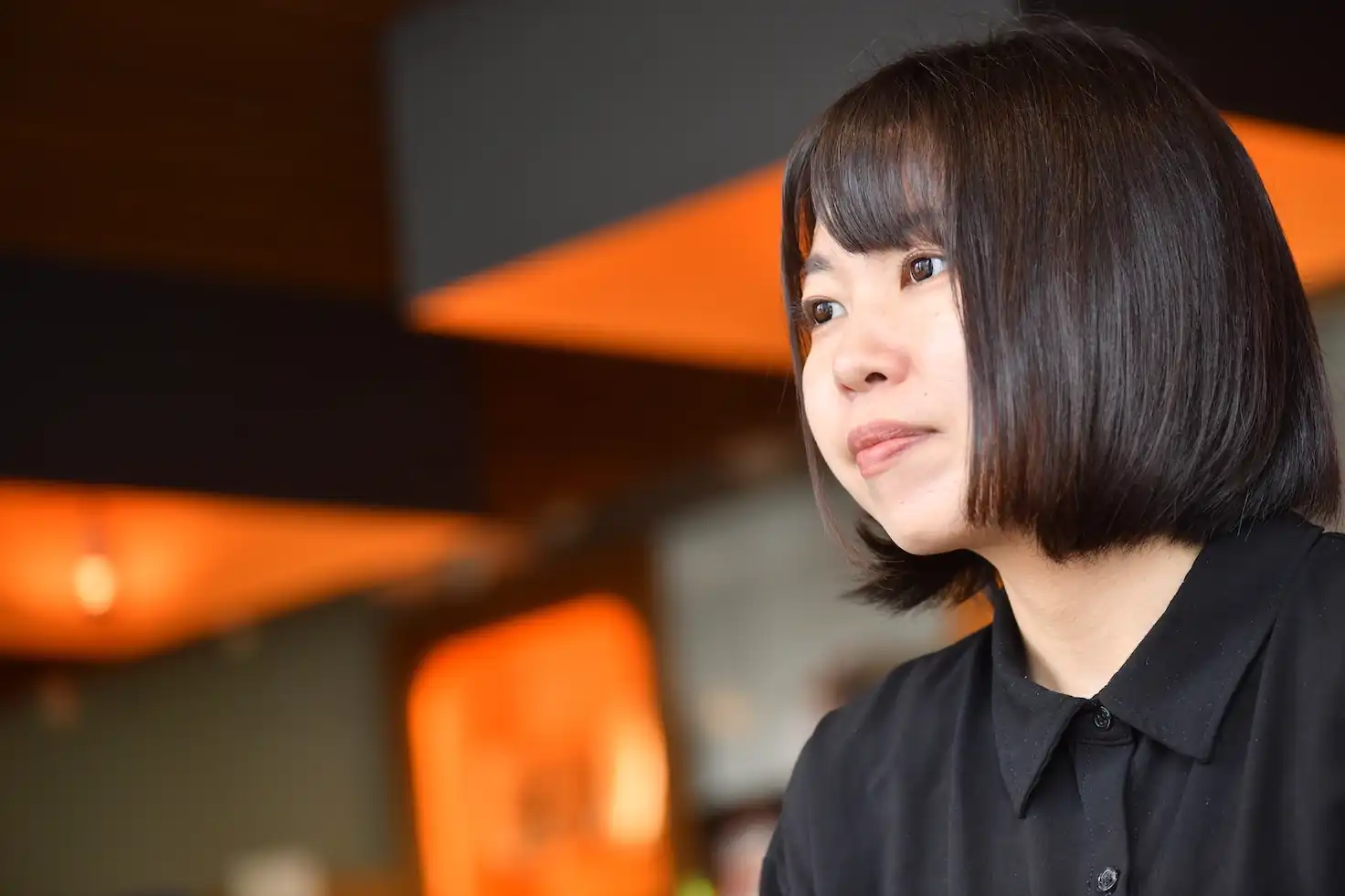 Ishikawa That's right. Even in my private time, I take photos or make notes when I find something good, things that attract my attention, and even social issues, as there may be some relation to disaster prevention.
It's not that I especially try to keep my eyes open for things. I simply like to do it, so it doesn't bother me at all. Even when listening to news blankly, I naturally think over solutions to issues.
— Dream, Inc. embraces "Life Presentation Academy" as its vision to propose a proactive lifestyle. Exploring potential demand, just like what you do in daily life, is crucial to understanding market needs.
Ishikawa We have a weekly meeting where everyone brings a new project idea and makes a presentation. As this is a weekly routine, sometimes we end up suggesting useless plans. But this task trains us to be constant thinkers. You may come up with nothing after a two-hour struggle if you are not used to thinking up new ideas.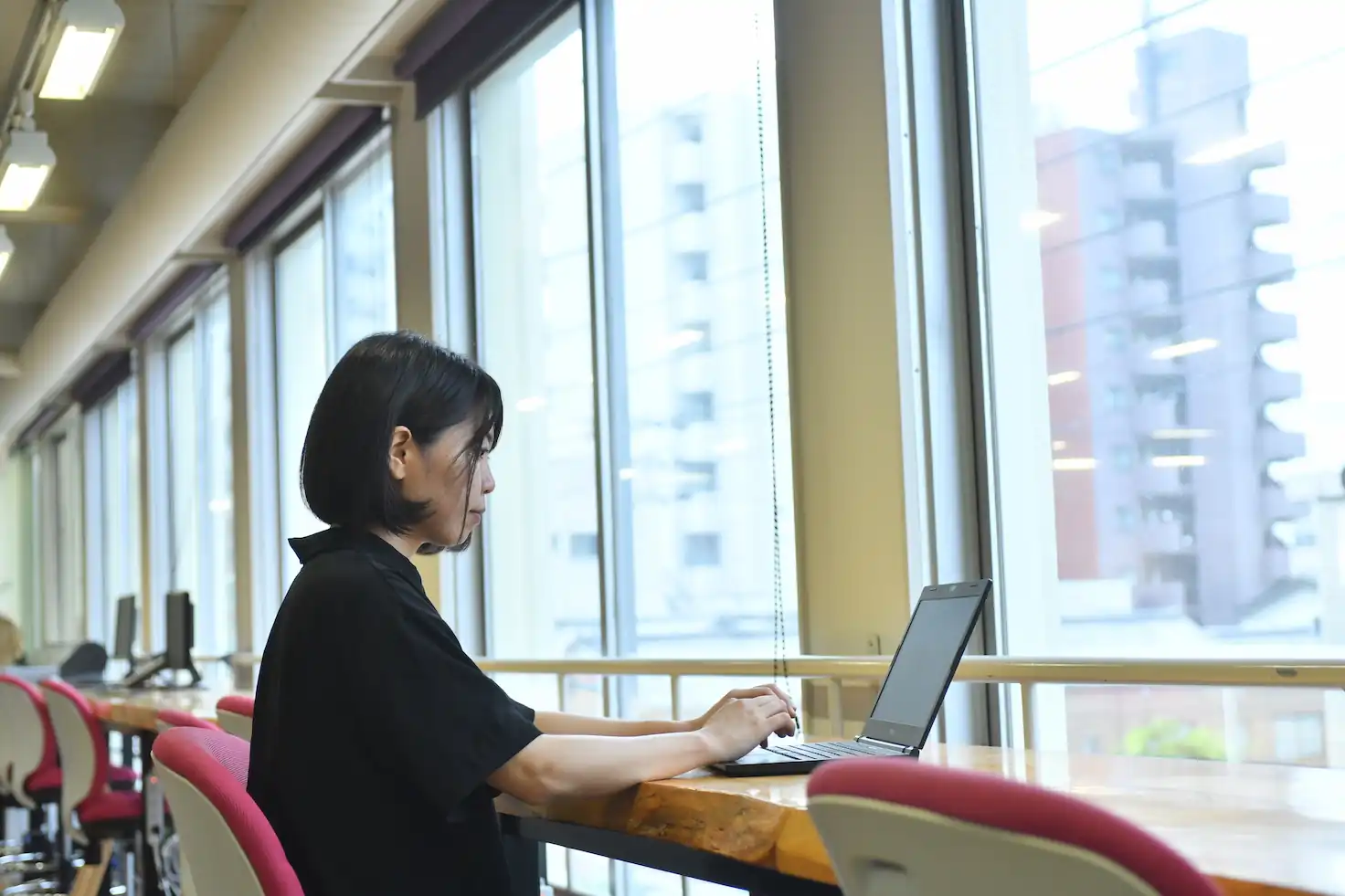 — I see. You need to be curious and stock up information as personal matters first. Then, you need to train yourself to a certain extent in order to connect bits and pieces to form a whole idea.
Ishikawa Especially regarding disaster prevention goods, as I have never experienced a disaster, I think it is important to be able to imagine various situations, such as by visiting the local disaster management center to practice fire drills and listening to disaster victims' stories, so that I can imagine difficult situations as much as possible.
— This time, Dream, Inc. was selected for the GOOD DESIGN BEST 100 for the first time. But your company also received the GOOD DESIGN AWARD several times for the voice training equipment, a balance ball, etc.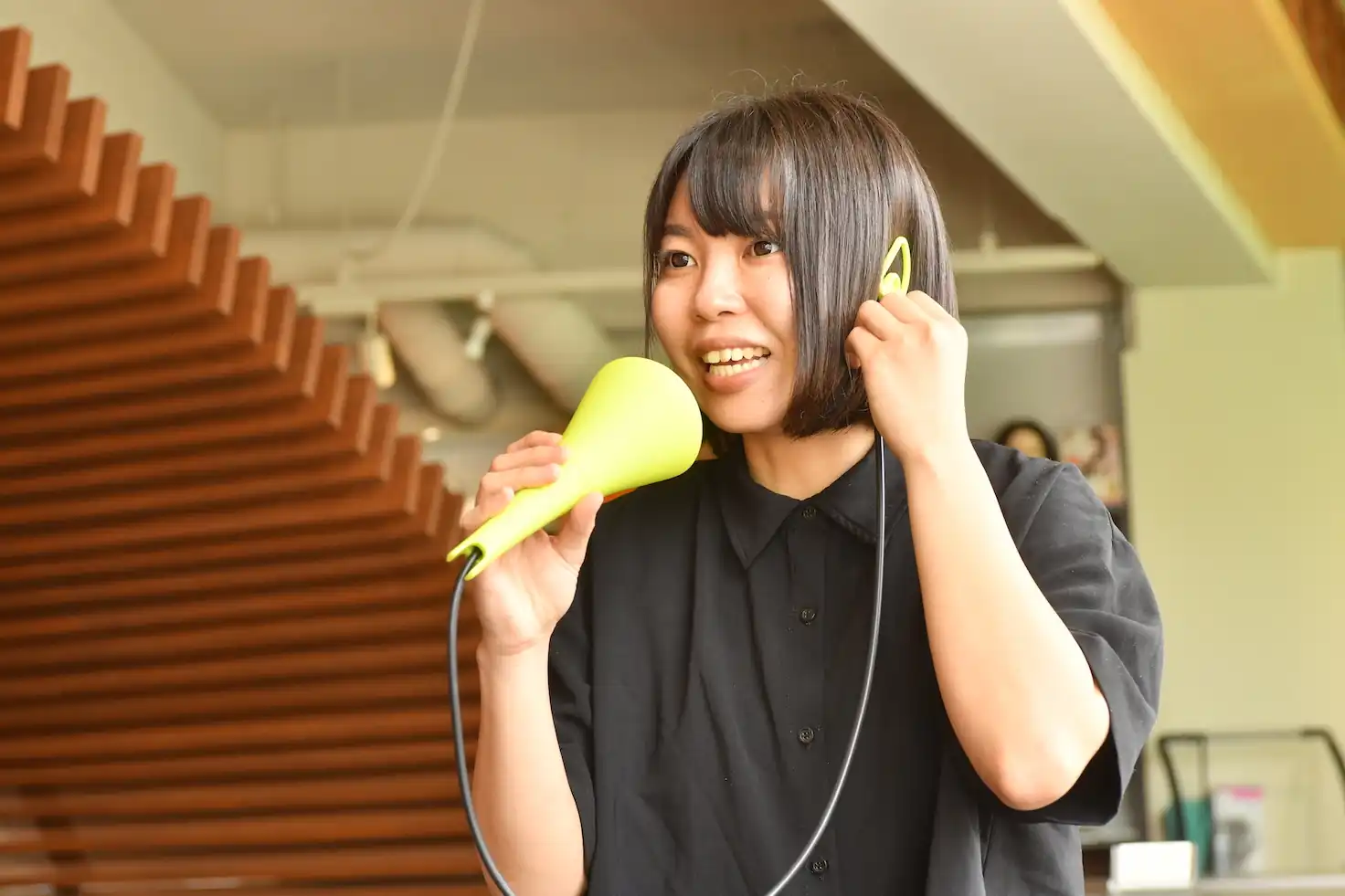 Ishikawa Applying for the GOOD DESIGN AWARD means a lot for our company because the award assures customers of confidence and trust in our products. We consider in advance whether our products meet the screening perspectives set forth by the GOOD DESIGN AWARD. We want to keep on reinforcing customers' trust by introducing award-winning-level products every year.
— Finally, please tell us your dream.
Ishikawa When I was in elementary school, I loved going to Tokyu Hands and buying emergency goods more than anything. I was so happy and felt dreamy when this sleeping bag came to be sold at Tokyu Hands.
I finally made something I'd been loving since my childhood. What I wanted to make was appreciated in the form of receiving the GOOD DESIGN AWARD. I'm also happy that it's actually selling well. My dream is to increase the SONAENO series lineup to the point we can form a disaster prevention corner of our own. I would be most grateful if customers said, "All emergency supplies in our household are SONAENO brand."
---
SONAENO cushion type multifunctional sleeping bag
Dream, Inc.
In Japan, a major disaster-prone country, various products to "prepare" for disasters are on the market; however, such supplies are often stored away and out of reach in times of emergency. SONAENO is a new brand that proposes preparation for disasters in a way that is adapted to everyday life, and developed cushion-type multifunctional sleeping bags in cooperation with disaster experts. This product can be used as a cushion daily, and as a sleeping bag that provides a secure sleeping environment during times of disaster. It was highly appraised for proposing a new idea combining the necessary functions of preparation for disasters and everyday use. https://www.mydream.co.jp/
---

Award details

2021 GOOD DESIGN BEST 100 "SONAENO cushion type multifunctional sleeping bag" https://www.g-mark.org/en/gallery/winners/9e4a19f1-803d-11ed-af7e-0242ac130002

---

Producer

Dream, Inc. CEO/ Hideo Ohashi

---

Director

Dream, Inc. TV media planning Department/ Momo Ishikawa

---

Designer

Dream, Inc. R&D Product designer/ Mayumi Mishima

---
---
Tomoko Ishiguro
Editor/writer
After working in the editorial department of "AXIS," she became a freelancer. She writes, edits, and plans, with a focus on design and life culture. Her major editorial works include LIXIL BOOKLET series (book, LIXIL Publishing) and "Oishisa no Kagaku" (magazine, NTS Publishing).
---
Kiyoto Wakabayashi
Photographer
He studied design in high school. After graduating from junior college, he worked at a design office and photo studio, then became independent in 1999. He works with clients in multiple domains, including advertising, and takes a wide range of photos in various genres.